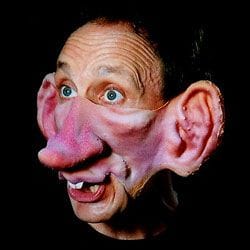 Party Masks, Theatre Masks, Fancy Dress, Commedia del'Arte
Ross - The Mask Maker
Hello, my name is Ross Brown, also known as "The Masked Man". I studied theatre in the USA, including "Mask", Commedia del 'Arte, Basel Mask, Clown and Neutral Mask in the Le Coq tradition. I began making masks for theatre out of papier maché and other materials. When I came to Australia I discovered high quality rubber latex, which is perfect for mask making. I've now been designing and making masks for 30 years. I don't know of any other tool that is more effective for getting people to laugh. If you are ever in Sydney, please drop by my stall at The Rocks Market where you will see a wide range of masks in action.

In addition to making masks at my home studio I conduct theatrical mask workshops in schools, and I create Music and Music Videos that feature our masks. I also design masks on request, if you have any special projects, please contact me.

Maria (Ratty)

Hi, I'm Maria - my favourite mask is "The Rat". In fact I often wear it while at the DarkSide Masks stall at the Rocks Market in Sydney. Consequently I've ended up with the nickname "Ratty"! My role at Dark Side Masks is to maintain the website, answer your online questions and process your order ensuring it gets to you timely. We love to hear from our customers and particularly enjoy receiving photographs of our masks in action. Please keep on sendng them to Email.
Darkside Masks from Edgard Neves on Vimeo.